Stokes School has been rooted in social justice since its founding in 1998. Our namesake, Elsie Whitlow Stokes, taught for 36 years in the segregated schools of Little Rock, Arkansas. Her daughter, Linda Moore, founded Stokes School in her home of Washington, DC to address the unmet needs for outstanding education in the Nation's Capitol. From the time of the school's founding in 1998 until 2008, the school was located in Columbia Heights, a close-knit and historically Latinx neighborhood. In 2018 Stokes School opened a second campus in the Capital View neighborhood of Northeast Washington in order to serve the families of Wards 7 and 8.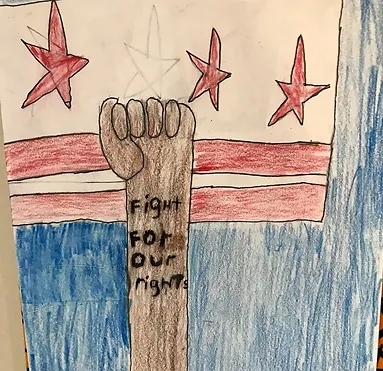 Social Justice at Stokes School
Stokes promotes social justice by ensuring that students' voices, opinions, and ideas are valued and respected. By being surrounded by a multicultural community, Stokes Scholars value diverse voices and cultures.
Our teachers and staff receive training in the Responsive Classroom approach to teaching and classroom management. These practices invite self-reflection on our own behaviors and center practices of restorative justice.
We establish a community of conscience by supporting the scholars to develop their own classroom norms that teach fairness in class discussions and behavior.
Social Justice in Our Curriculum
Our units of inquiry promote conversations about real-world issues that effect the lives of our students and the communities around them. In the International Baccalaureate framework, units highlight social justice leaders, awareness of social justice issues, and actions that scholars can take individually or collectively in the community.
Examples of social justice in the classroom 
Food drive: the annual culminating action of the third grade unit on DC Wards and food deserts.

Second grade Black History Month project closing with a living museum of past and present Black leaders.

Fourth grade multidisciplinary unit looking at the push-and-pull factors that cause movement of groups of people and a study of "The Great Migration" series by artist Jacob Lawrence.

Fifth grade final exhibition on the United Nations 17 Sustainable Development Goals.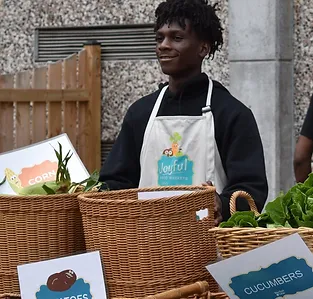 Social Justice and the Stokes Family Community
The Stokes community of families is deeply engaged in caring for our scholars, for each other, and for the larger community through a number of initiatives.
In spring 2019, Stokes School partnered with Kindred, an organization that supports parents, staff, and school-based leaders to make anti-racist schools. As an outgrowth of this, the Stokes Equity team came together with the goals of ensuring equity of voice, developing trusting relationships, advising school leadership, and taking direct action to address racial inequity.
The Equity Team planned and hosted a number of cross-campus events including:
Black Lives Matter car caravan of over 100 cars in Summer 2020 

#BeAVoice advocacy series empowering families to take an active role on issues that are important to them 

Town Hall and #GoodTrouble call to action celebrating the life of the late congressman John Lewis 

Candlelight vigil in honor of George Floyd in Summer 2021. 
Stokes School's East End Campus began the dialogue group process with Kindred in 2021. 
At our East End Campus, we have been in partnership with Martha's Kitchen Joyful Market program for many years. Volunteers from Joyful Market distribute fresh fruits and vegetables and share nutrition education with our scholars and their families.​
Within the Stokes community, our families have supported other families hit hardest by the effects of the pandemic through the Stokes Family Aid Fund and holiday drives.