At Stokes School, pre-kindergarten students receive instruction in the target language (French or Spanish) 90% of the time and in English 10% of the time. Classes are composed of a mixed age group of three- and four-year-olds. The younger children spend two years in the same class with the same teachers.
In the pre-kindergarten program, classes have a cycle of eight units of inquiry—four each year–so students who start as three-year-olds have opportunities for a unique experience each year. Students take an active part in those units while developing their knowledge around math, science, social studies, and literacy.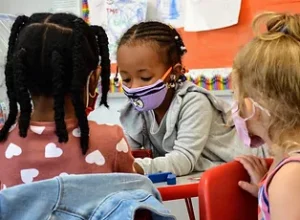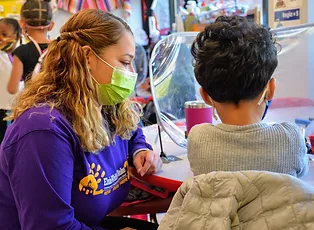 Teachers and assistants are native or fluent in the language of instruction. They create and plan the environment and learning experiences that are appropriate for the age and the abilities of each student. Students experience a supportive and nurturing environment, building social and communication skills while they socialize, cooperate, and learn how to solve problems.
Throughout the day, students participate in daily routines like morning circle, lunch, quiet time, and read-aloud; and uninterrupted free play during recess and classroom centers.