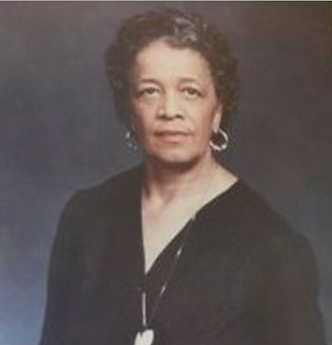 The Story of Our Namesake
Elsie Mae Whitlow was born in 1918 in Little Rock, Arkansas; the third of five sisters. She was born 53 years after the Civil War and five years after Jim Crow laws codified segregation.

Despite the tumult of the interwar period and the shadow of the Great Influenza pandemic, Elsie grew up in a stable, loving, and comfortable home. Her father, Chester Whitlow, held a number of jobs over the course of his life, including carpenter, truck driver for a local newspaper, and teacher at Arkansas Baptist College.

Cornelia Whitlow, Elsie's mother, was an organized and no-nonsense woman who chose to focus her labor on her home and family rather than performing domestic work outside of her home. Under the guidance of their mother, all of the Whitlow sisters contributed to home and family tasks, including washing and ironing, mending and quilting, cleaning, and gardening and fishing.
Pictured: Chester and Cornelia Whitlow with three of their daughters and a cousin.
Pictured: the five Whitlow sisters
The Whitlow sisters were a close-knit group who, together, attended Stephens Elementary School in segregated Little Rock. From there, Elsie went on to Paul Laurence Dunbar High School, a leading high school of the segregated South and a significant pipeline for young Black students who wanted to continue to college.

Elsie followed the footsteps of her elder sisters by going to college to study education. After completing junior coursework, she attended Philander Smith College while working part time to fund her schooling.

After graduating from college and saving, Elsie pledged Zeta Phi Beta Sorority, Incorporated, a Greek organization founded at Howard University that is dedicated to remedying the social ills of racism and poverty.
When Elsie graduated from college, she was not offered a teaching position near her home in Little Rock. Instead, she established her career at a one-room schoolhouse in rural Longview, Arkansas. She was shocked to discover the living conditions of her students, many of whom missed school to work as sharecroppers or in the cotton fields. Nevertheless, she learned to "make a way of no way," and gave her all to her students.

In 1940, Elsie married Elihu Moore, her sweetheart from her days at Dunbar High School. The two became parents of one daughter, Stokes School founder, Linda Moore.

In 1944, Elsie was offered a position in Little Rock School District, ultimately settling at George Washington Carver Elementary School. The community surrounding Carver Elementary was economically depressed and students sometimes missed school because they did not have shoes or clothes. Elsie took this opportunity to connect with the families of her students, ensuring that they could attend school or complete work at home. As a result of her efforts and stern organization, Elsie's students emerged with basic skills in reading and math.
Pictured: Linda Moore as a baby
Pictured: Linda Moore, Ruby Whitlow Waugh, and Elsie Whitlow Stokes in 1990.
In the years surrounding Brown v. Board of Education, Elsie was loosely connected to a number of the leaders in the movement to resist segregation. She and her daughter, Linda, took classes from Daisy Bates, a leader within Arkansas NAACP. Several students who were part of the Little Rock Nine lived in her neighborhood. Others had also attended Dunbar High School. Because of the threat of physical violence and loss of her job, Elsie did not participate in the NAACP or the Urban League outright. Nonetheless, the importance of the struggle for social justice was imprinted on her daughter, Linda Moore.
Elsie Whitlow Stokes applied

three basic principles

that helped her

lay the foundation

for the successful educational development of

over 1,000 students.
Every student can succeed academically and become a responsible citizen.
Every student can contribute to the community through service activities that prepare that student to become a caring neighbor and responsible citizen.
Every student needs a solid foundation in reading, mathematics, social studies, science, and the arts.
With these principles in mind, Stokes School was created. Located at the time in the basement of St. Stephen and the Incarnation Episcopal Church in Northwest Washington, DC, Stokes School served 35 kindergarten and first grade students and their families in its first year. After adding a grade level each year, by the fall of 2002 Stokes had outgrown its original location, and moved to a new building at the corner of 16th and Park Road, NW. Six years later, Stokes purchased its very own building in the Brookland neighborhood of Northeast DC. This move allowed enrollment to expand from 250 students to 350. The new building includes a music and art room, a library, a turf field, two playgrounds, and a garden. In 2018, Stokes School expanded again, adding the East End campus, which enrolled 140 pre-kindergarten and kindergarten students that year. It will eventually enroll 400 students.