Letters from the Executive Director
November English / Noviembre Español
Stokes School in the News
The Plan for Now, Until We Can Do Better
Let's show Black lives matter in Education
Feeding Pro Athletes, Cooking for Kids: A Restaurant Isn't The Only Place for a Chef
October 17, 2018
When students at Elsie Whitlow Stokes stream into the cafeteria this Thursday, they'll get trays with sesame noodle salad, a hard boiled egg, roasted greens and red peppers, a peach cup, and milk. The Brookland charter school only serves meals cooked on the premises. "A select few schools do scratch cooking," says head chef Chris Headecker. "[Other schools] don't have a kitchen in the building. They might just have warming stations or kitchenette space because they outsource their food." 
April 23, 2019
By: Erika Bryant
​
Read about why every day is Earth Day at Stokes School! Click here for the story in the DC Line written by Executive Director Erika Bryant. 
Jenna Bush Surprises Mr. Bobby and Stokes School on the Today Show
November 19, 2018
Jenna Bush Hager headed to Elsie Whitlow Stokes Community Freedom Public Charter School in Washington D.C., where she used to teach. Jenna surprised her mentor, Mr. Bobby, with $5,000 courtesy of Clorox. The Clorox donation also included a school-wide supply of disinfecting wipes for each classroom. Click here to watch the surprise. 
Dual language charter schools attract the longest waiting lists in D.C.
Washington Post, April 17, 2018
By: Perry Stein
Elsie Whitlow Stokes school, a Northeast Washington preschool and elementary charter that teaches classes in two languages, has the longest waiting list of any D.C. charter school, with 1,827 students still hoping to land a slot.​
The D.C. Public Charter School Board released waitlist data Tuesday for the 2018-2019 academic year. The data shows that dual language and Montessori-style schools are in high demand. Six of the 10 schools with the longest waiting lists, including Mundo Verde Bilingual and DC Bilingual, are known as dual language schools.
​To read the rest of the article please click here. 
National School Walkout/March for Our Lives
On March 14th, more than 2500 schools across the country participated in the National School Walkout to protest gun violence. Each school determined for themselves how best to participate; some students marched with signs, many held a moment of silence while others had discussions about what could be done. Looking for an age-appropriate way for our own scholars to take action, Stokes students held a "Peace Chalking" that encouraged conversation between students, faculty, and parents about non-violence.
Nine days later, Stokes School hosted a breakfast for the first students arriving for the March for Our Lives. The students, chosen by the Urban League of Broward County for their academic leadership at schools affected by chronic gun violence, were welcomed by Stokes Executive Director, Erika Bryant, and a survivor of the Marjory Stoneman Douglas shooting, Aalayah Eastmond. Aalayah's survival is nothing short of a miracle however we recommend against sharing the details with your scholar.  
After freshening up and eating breakfast, the students joined Stokes staff for a short rally before traveling to Capitol Hill where the participated in a leadership forum with the Brady Campaign to Prevent Gun Violence and Rock the Vote.
Reporters from ABC, NBC, Fox, and two French media outlets attended the breakfast. You can see some of the media coverage from at the links below.
Twitter Coverage:
ABC
https://twitter.com/Cpatrickis/status/977141767660359681
https://twitter.com/ABC7Hughes/status/977139957721640961
https://twitter.com/Cpatrickis/status/977145817357307904
Fox 5
https://twitter.com/Mhowell003/status/977119864191057921

https://twitter.com/Mhowell003/status/977129954407305217

https://twitter.com/Mhowell003/status/977145014173265922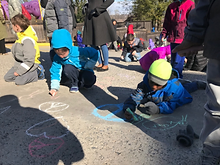 Fourth Grade Featured on WTOP
On Tuesday, October 24, our fourth grade classes went to the Thompson Boat Center for a Voyageur Canoe trip on the Potomac River. The field trip which was sponsored by the National Park Trust is the kickoff event which gives all fourth graders in the United States free access to National Parks. Click here to read about it on WTOP. 
Martinique Study Tour Scholars on TV
While on the Martinique Study Tour, our fifth grade French scholars found themselves on a TV news program where they were able to show off their French skills. To watch the video please click here.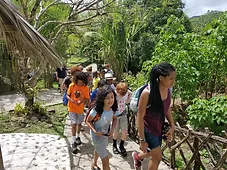 Mr. Bobby and Mr. Rene Receive the Prestigious Buddy Award
"The Buddy," the National Park Trust's National Teacher Award For Outstanding Environmental Stewardship, recognizes an educator whose innovative use of the Buddy Bison program has made a significant impact in his or her students' understanding of the natural world and the importance of protecting our nation's treasured parks. For the first time ever they awarded two educators in one year, Mr. Bobby and Mr. Rene. Stokes School is very proud of both gentlemen for all their hard work! To read more about the award please click here.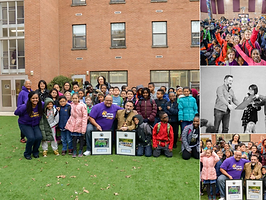 Koshland Science Museum Brings Extreme Event To Stokes
The Koshland Science Museum brought their Extreme Event game to Stokes School during a two hour professional development session in December. Extreme Event is a role playing game which gives participants a taste of what it takes to build community resilience in the face of a disaster. Players work together to make decisions and problem solve during a disaster simulation. During the professional development session, Extreme Event focused on fitting their game into fourth and fifth grade Next Generation Science Standards, and on Earth Systems. To read more about the experience and to watch a video, please click here.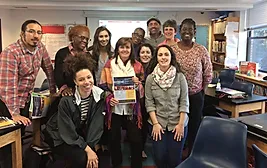 D.C.'s public charter school system turned 20 this year. Now what?
Stokes School was one of the first public charter schools to open in Washington, DC. Next fall, Stokes will be 20 years old. Read about the growth in the DC charter school movement, including quotes by Stokes School Executive Director, Erika Bryant, here: https://goo.gl/rzafpm. 
Stokes School is the Most Diverse school in Washington D.C.
According to an article which appeared in the Washington Post on December 4, Elsie Whitlow Stokes Community Freedom Public Charter School is one of the top 10 most racially diverse schools in Washington D.C. To read the article, please click here: goo.gl/qt94Am.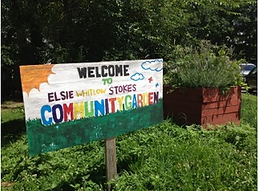 Stokes School Garden Featured on the Institute for Self Reliance's Website
Stokes School Fourth Graders Visit National Park
Stokes School Fourth Graders helped kick-off the Every Kid in a Park initiative by visiting Rock Creek Park on September 15. Visit: goo.gl/ntlUAM for an article on the event, as well as videos and pictures.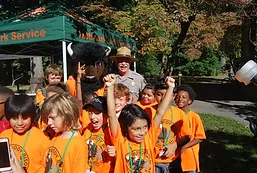 Stokes School Mentioned in The Washington Post
In a September 2015 article which appeared in the Washington Post entitled: "School quality has a mighty influence on neighborhood choice, home values", DC Public Charter School Board Chair Darren Woodruff mentions the Stokes School as one of the high performing charter schools that are becoming anchors for community improvement.
To read the article in its entirety please visit: http://goo.gl/A5kO0Z